Mark Sykes, Manager of Collections and Research | Kaiwhakahaere Kohikohinga Taonga Me Te Rangahau, Whakatāne Museum,
When our newly appointed Prime Minister Jacinda Ardern - who was hapū at the time – stepped onto the international stage to meet the Commonwealth Heads of Government in London 2018 heads turned for many reasons, one being the incredibly crafted feather-cloak on her shoulders.
The cloak, which was recently acquired by Te Papa, was reported in various news agencies as a korowai, though international media who reported on the event at the time described it as a kahu huruhuru.
So what is it? At the time of the event, back in 2018, the Guardian contacted Te Papa to confirm its description and correctly reported it as a kahu huruhuru – a cloak | kākahu with feathers | huruhuru.
Across New Zealand collections there many exquisite examples of kahu huruhuru, showing the feathers of the kākā, tūī, and many other manu.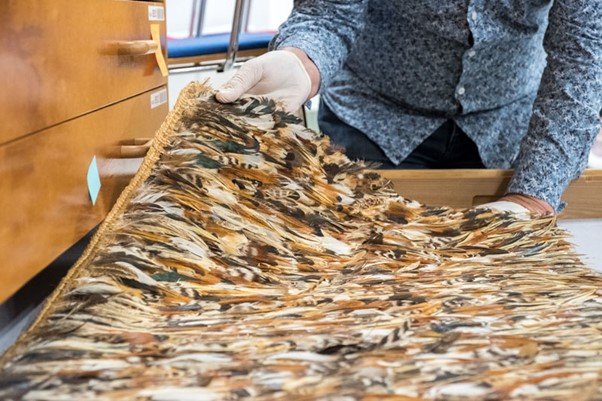 Kahu kiwi
The kahu kiwi, one of the more prestige cloaks, are adorned with the feathers of the kiwi, and are held in high esteem and were worn on special occasions.
Kahu kuri
Kahu kuri (dog skin cloaks) were the most prestigious Māori cloaks before the kuri (Pacific dog) became extinct in the early 1800s.
The hide and hair were used also used to decorate the awe of the taiaha, a fighting weapon used by our tupuna.
Korowai
This type of kākahu is a very distinctive style, with the body of the kākahu and the neck border adorned with hukahuka, or decorative tags which are made from rolled muka (flax fibre) and usually dyed black.
As you can see there are many different styles of cloaks, each being very different and distinctive, each style having their own name to distinguish one from another.
The media is a powerful tool. Reporting the correct name, in this case of the PM's kākahu, means the information would reach people in Aotearoa and internationally, helping them to understand not only our Māori taonga and the correct use of words to describe our kākahu, but also their significance for Māori.
As a former collections kaimahi at Te Papa and now a Manager of Collections and Research at Whakatāne Museum and Research Centre, I am very privileged to be one of kaitiaki (guardians) who look after our Māori taonga collections. We are often asked on many occasion 'what is that kākahu?' or 'what is that taonga?', we then have the opportunity to tell the stories of the cloaks, as they don't have a voice themselves. From recent experiences working with whānau and hapū, kākahu have revealed their kōrero through their provenance, whakairo, patterns or materials.
Again I ask 'when is a korowai not a korowai'?
Naku te rourou nau te rourou ka ora ai te iwi
With my basket and your basket the people will live
Please note: this story first appeared on Te Papa's blog. It was reproduced with the permission of Te Papa and modified by its author Mark Sykes.