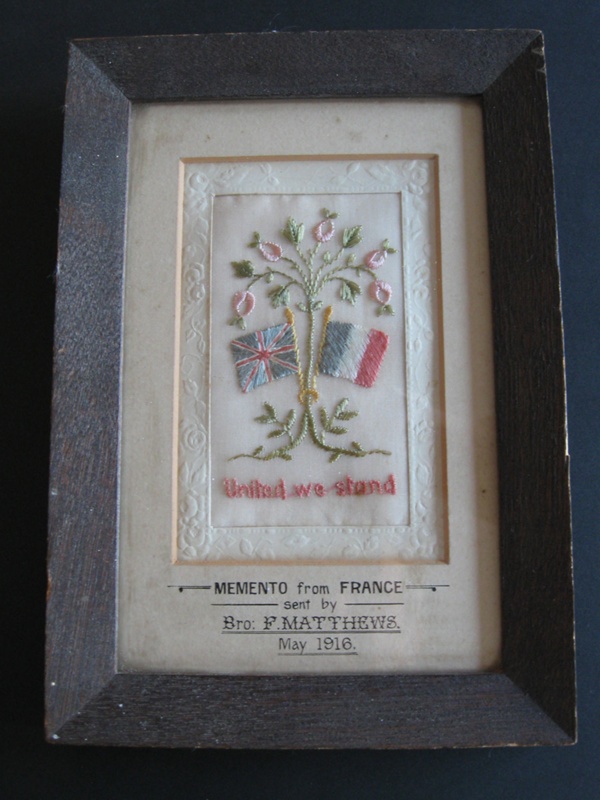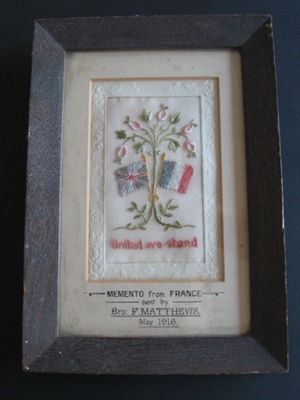 Memento from France sent by Bro. F. Matthews May 1916
Shared by
Lincoln and Districts Historical Society, Inc.
Framed embroidered postcard, showing two flags (Union Jack and French), under flowering tree, with 'United we stand' embroidered in red. Embossed border on card.
Ngā whakamārama
-
Details
Title

Memento from France sent by Bro. F. Matthews May 1916

Subject

Matthews, Francis Nicholas, World War I, 1914-1918, 1910s, WWI

Additional information

card, paper, cotton, embroidery thread wooden frame Framed by J. W. Gibb, Christchurch Fine Art Depot, 105 Cashel Street., frame: 235 mm x 165 mm postcard: 140 mm x 90 mm

Rights

All rights reserved


View source record for this item
Kei hea tēnei taonga?
-
Where is this item held?
Additional information including high resolution images may be available.

Location

Visitors are welcome to our heritage buildings. Pioneer Hall, corner of Gerald St and Kildare Tce, Lincoln, Canterbury. Liffey Cottage, James Street, Lincoln, Canterbury, New Zealand. Our local history collections are held offsite. Please email your inquiry.
Ngā here ki runga i ngā whakaahua o tēnei taonga?
-
What can you do with images of this item?
Use for private study, research, criticism, review, or education

NZ Copyright law allows for the use of copyrighted works in specific circumstances. Consider what you can do under copyright law.

No sharing

You can't share this image without futher permission.

No modifying

You can't modify, remix or add to this image without further permission.

No commercial use

You can't use this image to make money.
Tāpirihia he kōrero anō
-
Improve this record
Can you help us? Share names, details and stories to help enrich the collection.