Heather Fryer, Research Volunteer, Edwin Fox Maritime Museum
One of New Zealand's most treasured maritime mementos – the Edwin Fox – tells the story of the many immigrants to New Zealand who made the three-to-four month journey into another life in the late-1800s.
At the Edwin Fox Ship and Maritime Centre in Picton we are very fortunate to be able to celebrate the link to this remarkable period of history through the Edwin Fox ship. The hulk of the ship which was built in Calcutta in 1853 has been lovingly preserved and is in a dry dock for all to explore and enjoy. In the museum artefacts from the ship and reconstructed display areas give a sense of the conditions on board during the vessel's lifetime.
The ship is one of a kind, not only is she the oldest surviving wooden vessel of the hundreds of ships which brought immigrants to New Zealand but her remarkable history includes being the ...
Last surviving wooden ship that took convicts to Australia
Last wooden Crimean War Transport ship
Last remaining ship of her type
Only remaining example of a pioneering New Zealand refrigeration ship
Last surviving wooden ship owned by Duncan Dunbar who owned one of the largest sailing fleets in the world in the mid-19th century.
The ship's significance is recognized by Heritage New Zealand which has designating the vessel as Category 1—its highest protection.
The Edwin Fox made four voyages from England to New Zealand carrying immigrants and a large range of cargo, providing an important window into our immigrant history. The story of her struggles encountered while making this most arduous of journeys is one which would have been shared by many of the passengers and crew making this voyage.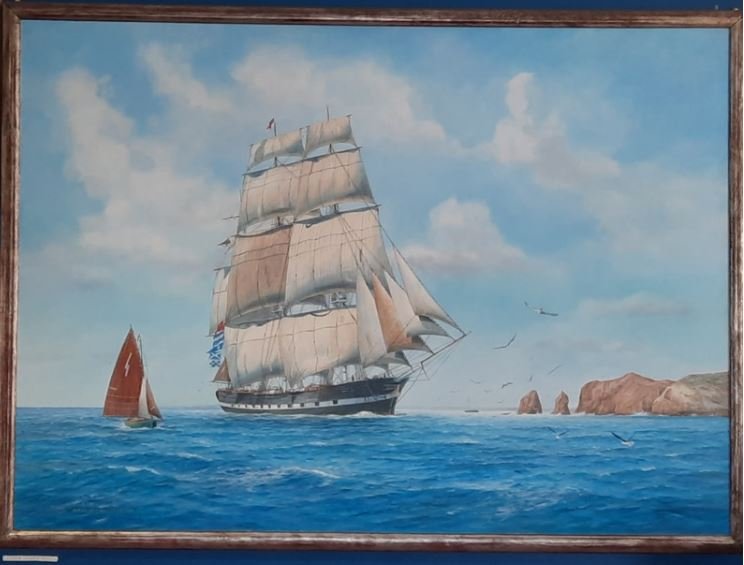 Close call on the Bay of Biscay
In 1873, the Edwin Fox was used to transport immigrants to New Zealand under the British Government Vogel scheme, with 211 passengers boarding the ship in London for Canterbury and Otago. As well as facing boredom, passengers had to deal with cramped quarters, restricted privacy, brawls, limited sanitation and outbreaks of typhus, dysentery, and measles. One thing passengers hoped for dearly was a smooth sailing, though this particular journey was a white knuckled ride for everyone on board. Caught in a major storm in the Bay of Biscay along with other ships, the Edwin Fox endured significant damage. Though it wasn't just the ship that suffered serious damage with both passengers and crew suffering from injuries and loss of life. Upon arrival in Lyttleton, fresh provisions were provided due to persistent fever on board, and the ship was towed to the quarantine station on Ripapa Island. When the ship returned to London the owners sent her into the East India Dock for a major refit. This work involved major reconfiguration of her decks to improve the accommodation as well as the addition of a water condenser to provide fresh water.
Taonga | Item

Edwin Fox Ship and Visitor Centre

Taonga | Item

Edwin Fox Ship and Visitor Centre

Taonga | Item

Edwin Fox Ship and Visitor Centre
Brawls and collisions
After several misadventures trying to leave England, the Edwin Fox set sail on December 22nd, 1874, with 265 passengers on board. They collided with a schooner named Amici, causing one crew member to drown. With a large contingent of Scottish and Irish passengers it proved to be an eventful crossing with numerous accidents, incidents and brawls between both male and female passengers, but these were met with stiff punishments handed out by the captain. The passengers arrived at Wellington Harbour on April 18th, 1875. However, they were unable to land due to fever on a ship that had arrived six weeks earlier, so they were transferred to the quarantine station on Matiu/Somes Island. As one passenger, William Manning, wrote in his diary, with `our voyage had at last come to a termination, after 122 days of misery, anxiety, discomfort, and semi-starvation'.
During the voyage, the owner decided the ship was too prone to accidents and sold her for 2,500 pounds to Shaw Saville and Company.
Taonga | Item

Edwin Fox Ship and Visitor Centre

Taonga | Item

Edwin Fox Ship and Visitor Centre

Taonga | Item

Edwin Fox Ship and Visitor Centre
Terminal wait
In July 1878, Edwin Fox sailed to New Zealand with 249 passengers and arrived in Nelson 101 days later, but was unable to enter the harbour due to the shallow channel. Passengers were ferried on board the SS Wallace and transported via the steamers McGee and Murray. The ship's surgeon's report for this voyage still exists and offers insight into life on board.
Taonga | Item

Edwin Fox Ship and Visitor Centre

Taonga | Item

Edwin Fox Ship and Visitor Centre
Last immigration voyage
On January 8, 1880, under Captain Phease, the Edwin Fox departed London for her last immigration voyage to New Zealand with 106 passengers, 20 in saloon class, 12 in second class, and the rest in steerage. During the voyage, the ship benefited from favourable winds around the Cape of Good Hope while searching for the missing ship Knowsley Hall. In addition to the passengers the vessel again carried various cargo items including pumping gear and machinery for the Christchurch Drainage Board, 800 tons of railway ironwork as well as the 'usual' large consignment of alcohol. On June 12, 1880, Edwin Fox left Lyttleton laden with 1,100 tonnes of wheat and oats, returning to London after 140 days. This marked the end of her immigration voyages.
Taonga | Item

Edwin Fox Ship and Visitor Centre

Taonga | Item

Edwin Fox Ship and Visitor Centre

Taonga | Item

Edwin Fox Ship and Visitor Centre
Today, she is the world's oldest surviving wooden merchant sailing ship and is preserved in a dry dock in the Edwin Fox Maritime Museum. As a ship that carried many immigrant New Zealanders into their new lives, she provides rich insight into the leap of faith people took to reach this new land.
If you wish to learn about some of the collections that are held by the Edwin Fox Museum, see here
Whare taonga | Organisation