This pair of batting gloves was awarded to New Zealand women's national cricket team player Pearl Savin for 'best all-around performance against the English 11' at the first international women's test match in New Zealand in 1935.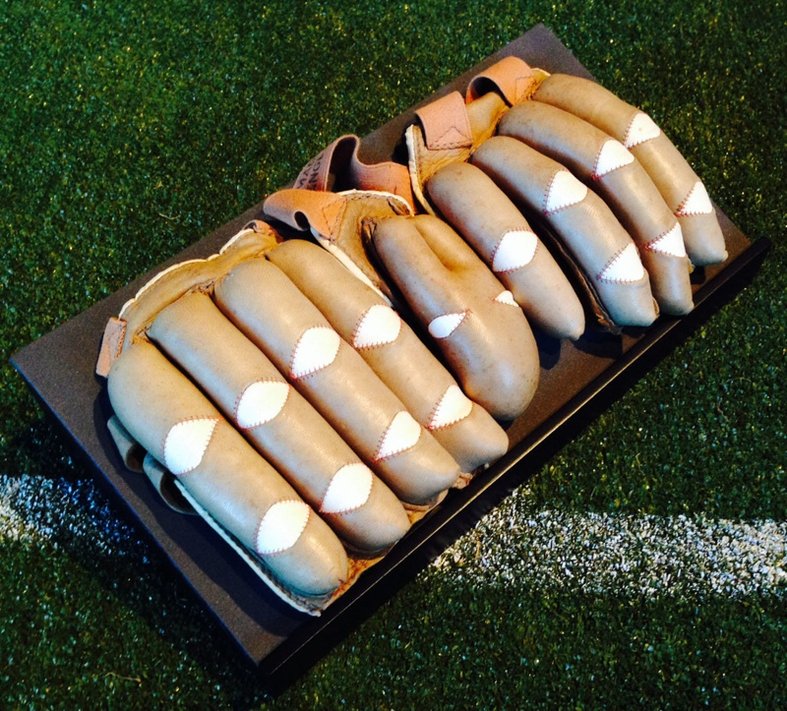 From 1910 onwards, there was a growing number of women that demonstrated an interest in cricket in New Zealand. This spurred the formation of a national body in 1934 called the NZ Cricketing Council for Women (NZWCC), a fast follower of cricket-loving nations Britain and Australia.
The Australian Women's Cricket Council built on the momentum gained in the 1920s inviting the English team to the first-ever all female international test match, and the NZWCC jumped in with an invitation to play on Aotearoa's shores.
Over a period of six weeks, the English team played four test matches across the two countries.
To take on these seasoned players, the Council assembled a team of women who had a record of sporting prowess, one of whom was 21-year-old Pearl Savin who showed an aptitude for swimming, hockey, tennis, and cricket in her school years.
Savin played wicket-keeper for Auckland against the visiting team in their opening tour match at Eden Park in January 1935. Having played exceptionally well, she received a pair of batting gloves for being the most valuable player on the home team.
The New Zealand Cricket Museum, based in Wellington, have shared Savin's gloves as part of their contribution to the Girls of Significance exhibition.
From her top performance at this match, Savin was selected to represent the New Zealand team a month later at Christchurch for the country's first official test match against the English side.
On the day, over 3000 spectators crowded the stadium to see the New Zealand women's national cricket team being thrashed by the English side. Savin was said to have received a "mass of bruises".
During this test, Ruth Symons, who acted as the team's captain, sustained an in-game injury to the head, and Savin was pushed into the role of 'impromptu' vice-captain. The team had only formed very recently and Savin admitted to finding the role difficult since she only knew a handful of players from the Auckland team.
Although Savin and the team lost the bout, they succeeded in boosting women's cricket in our small country. Savin went on to teach overseas and then become a physiotherapist. Thank you to the Cricket Museum for sharing these treasures with us.

References:
Test Cricket History - TAWC (talkinaboutwomenscricket.com)
England and New Zealand test match, 1935 – Cricket – Te Ara Encyclopedia of New Zealand
More from the Pearl Savin collection at the New Zealand Cricket Museum
taonga | item

New Zealand Cricket Museum

taonga | item

New Zealand Cricket Museum

taonga | item

New Zealand Cricket Museum