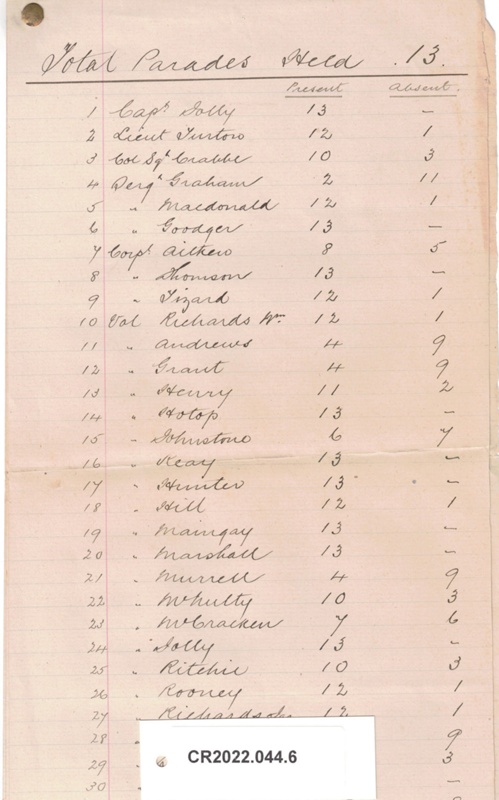 Cromwell Rifle Volunteers' List of Parades held
Shared by
Cromwell Museum
List of Total Parades Held 13, with members names and number of parades attended (no dates are recorded). The strength of the Corps is numbered at 49.
Ngā whakamārama
-
Details
Title

Cromwell Rifle Volunteers' List of Parades held

Subject

Documents, Administrative records, Military

Additional information

Paper Ink, L 329mm x W 175mm

Rights

All rights reserved


View source record for this item
Kei hea tēnei taonga?
-
Where is this item held?
Additional information including high resolution images may be available.

Location

47 The Mall CROMWELL 9310
Ngā here ki runga i ngā whakaahua o tēnei taonga?
-
What can you do with images of this item?
Use for private study, research, criticism, review, or education

NZ Copyright law allows for the use of copyrighted works in specific circumstances. Consider what you can do under copyright law.

No sharing

You can't share this image without futher permission.

No modifying

You can't modify, remix or add to this image without further permission.

No commercial use

You can't use this image to make money.
Tāpirihia he kōrero anō
-
Improve this record
Can you help us? Share names, details and stories to help enrich the collection.